Top three picks for home and garden tours — offered this weekend
There's something about magnificent mansions and perfectly manicured gardens that entice the history buff, and photographer, in me; so, I've picked few tours and events that might get you on board to explore stunning and historical venues this weekend.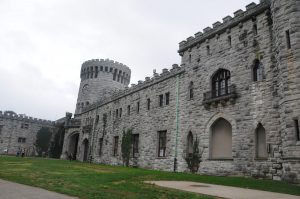 1) Mansion Tours at Sands Point Preserve, 127 Middle Neck Road, Sands Point. Aug. 31-Sept. 2.
Head out to the former Guggenheim Estate for a guided tour of the 50,000-square-foot Tudor-style Hempstead House and cliff-side, French-Norman-style manor house, Falaise. There is also much do see at on the preserve's grounds, with its 216 acres of natural and landscaped areas. Hempstead House tours: Wednesdays, Saturdays and Sundays, year-round. Falaise tours: Thursdays, Fridays, Saturdays and Sundays, through Nov. 18.
2) Dahlia Show at Bayard Cutting Arboretum, 440 Montauk Hwy., Great River. Sept. 1-2.
Vibrantly-colored dahlias, ranging in size from a marble to a basketball, are the main attraction at the Long Island Dahlia Society's (LIDS) show; and are up for sale in the arboretum's Carriage House, on Saturday, 1-5 p.m.; and Sunday, 10 a.m.-4 p.m. You will have opportunity to meet the gardeners who grew the dahlias, as well as walk along the grounds to view a garden of more than 1,000 dahlias that LIDS volunteers plant and maintain – wow! The society is also hosting another show, Oct. 6-7, at the arboretum.
3) Sagtikos Manor Tours, 677 Montauk Hwy., Bay Shore. Sept. 1-2.
Less than a mile from the Great South Bay lies Sagtikos Manor, named after the Native American word meaning "head of the hissing snake," due to the sound of the small stream on the grounds. Docent-led tours, with docents in period attire, provide a peek into the preserved rooms of the manor. Tours are offered on Saturdays and Sundays, 1-3 p.m., through the end of September. Also, stroll along the 10-acre grounds, as there is a walled garden, a carriage house, the Thompson family cemetery and a buttery.
Bayard Cutting Arboretum: 631-581-1002 · bayardcuttingarboretum.com
Sands Point Preserve: 516-571-7901 · sandspointpreserveconservancy.org
Sagtikos Manor: 631-854-0939 · sagtikosmanor.org